These easy cauliflower tomato potato slices make great finger food. They're also great conversation starters.
They are filling and their juiciness is just right. The baked tomato gives them a tangy flavor. The slight sweetness of the cauliflower and garlic make them hearty, and the potatoes make them all the more delicious.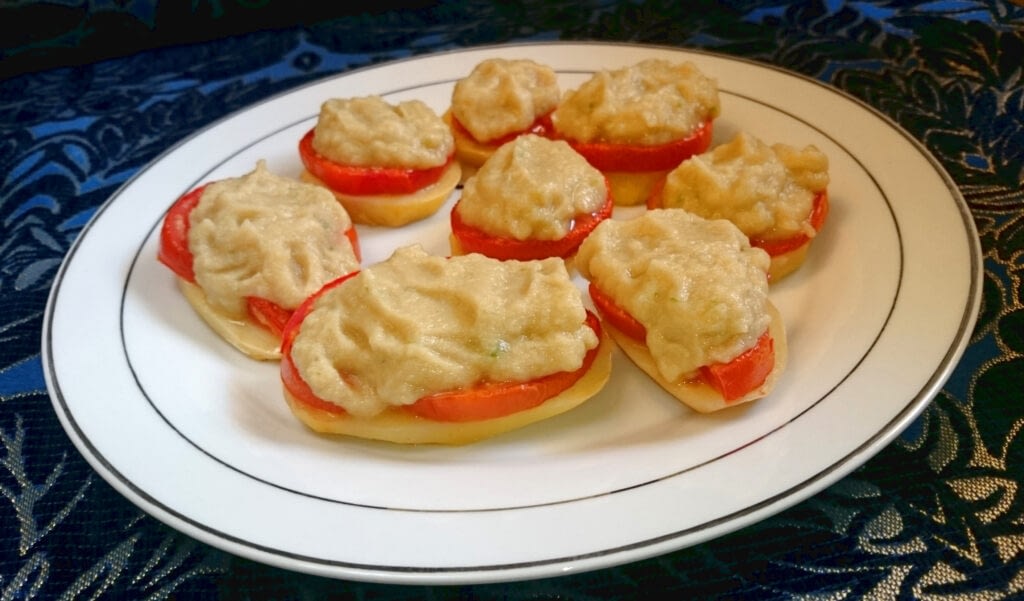 This recipe was inspired by a dish I used to always make; roasted veggies, but without the mess! Don't get me wrong, messy food is fun sometimes, but not when you're too tired to clean up afterwards, or when you have guests over.
So here it is, my easy low fat vegan cauliflower tomato potato slices recipe!
Cauliflower Tomato Potato Bites Recipe
3 medium potatoes
2 medium tomatoes
1 1/2 cups chopped cauliflower
3 large cloves garlic
1 cup water
1 tablespoon low sodium soy sauce
1 small green chili pepper
1/2 tsp salt
Preheat your oven to 380 F.

Line a baking tray with parchment paper.
Wash and peel potatoes.

Cut potatoes into vertical or horizontal 1/2 inch thick slices.

Wash and cut tomato into thinner slices.
Assemble the potato slices onto the baking tray, and the tomato slices onto potato slices.

Put into the middle try of the oven.

Let them bake for 30-45 minutes or until done.

Meanwhile, peel your garlic cloves and toss them into a pot along with the cauliflower and water.
Bring to the boil, and reduce heat. cover and let them cook over low heat for 45 minutes or until mushy.
Put cauliflower and garlic into a food processor or blender, add soy sauce, chili pepper and 2 tablespoons of the remaining water in the pot, and blend until the desired consistency is reached. If the sauce is too thick for your taste you can add some more water.
Once the potato and tomato slices are ready assemble them on a serving plate, and add the cauliflower spread onto them.
Serve.