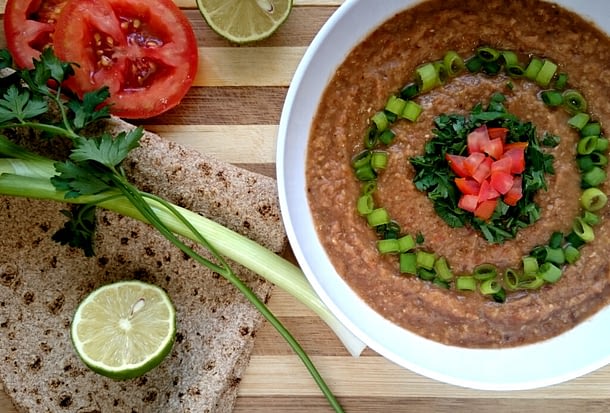 Fava Bean Dip is a Middle Eastern dish that is often eaten for breakfast. It's also a mezze. Different countries are known for it but they call it "Ful Mudammas". There are numerous versions of Ful. Fava beans are filling and nutritious, hence why  they're cheap and widely spread, especially throughout the ME. My version of it is low fat, of course. Most people add olive oil to it but I don't. It's eaten with bread but you can use your imagination.
Ful Fava Bean Dip Recipe
Dip
3 tablespoons dry chickpeas (you can use canned chickpeas)
1/2 cup raw whole lentils (you can use canned lentils)
2 handfuls chopped spring onion (you can use any type of onion)
1 cup chopped tomatoes
1 teaspoon cumin
1 pinch salt (to taste)
1 pinch ground black pepper (to taste)
1 cup water
260 gr canned fava beans but without the liquid (you can use dry fava beans)
1/4 cup lemon juice
Garnish
1/2 cup chopped parsley
1 medium tomato
1/2 cup chopped green onion
If you're using dry fava beans here's how to cook them:

Soak dry fava beans in warm water for a whole day, change the water half way through. Rinse and put them in a pot. Cover with water but don't add too much water. Also, add some lemon juice (1/2 cup) so they don't go dark. Let them cook over medium heat for 2-3 hours or until they're tender (mushy). Keep an eye on them throughout the cooking process.

Rinse dry chickpeas and soak them in water overnight.

Toss lentils, soaked chickpeas, onion, tomato, cumin, salt, pepper and water into a pot and bring to the boil.

Cover pot and let them cook over medium heat for 45 minutes while stirring every 10 minutes or so.

Toss all the ingredients (the ones in pot plus fava beans and lemon juice) into a blender or a food processor and process until you get a dip consistency.

Garnish then serve.