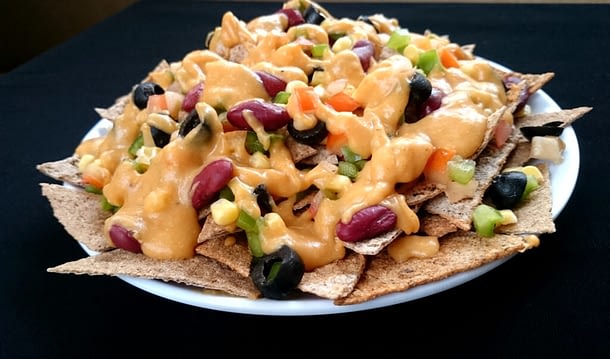 There are so many variations of nacho and queso recipes on the internet, especially vegan ones. This recipe was basically inspired by most of them. My Low Fat Vegan Nachos and Queso recipe is great for parties and get-togethers. It can be a bit messy though but it's definitely worth it.
Here it is. Enjoy!
Low Fat Vegan Nachos and Queso Recipe
Queso
3 cups water (divided)
1 large potato
1 medium carrot
1 cup chopped cauliflower
1/2 cup old fashioned oats
1/2-1 cup nutritional yeast
1/2 lemon
1-2 tablespoons tomato paste
1 tablespoon garlic powder
1 teaspoon onion powder
1 tablespoon sweet paprika
1/2 teaspoon turmeric
1 pinch salt
Nachos
3-4 large low sodium whole wheat tortillas ((you can use any kind of tortilla bread))
1/2 lemon
1/2 cup water
2 tablespoons garlic powder
1 teaspoon chili powder
1 tablespoon sweet paprika
Garnish
1/4 cup chopped tomato
1/4 chopped green bell pepper
1/4 cup chopped black olives
1/4 cup sweet corn
1/4 cup kidney beans (you can use any type you want)
In a medium bowl add oats and 1 1/2 cups of water. Cook in the microwave for 4 minutes.
Wash and peel potato and carrot.
Chop potato and carrot and toss them into a pot.
Wash cauliflower and add to pot.
Add 1 1/2 cups water and bring it to a boil.
Reduce heat, cover and let it simmer over medium heat for 15-25 minutes or until mushy.
Add cooked oats, boiled potato, carrot and cauliflower and the water in the pot to a blender. Then add nutritional yeast, lemon juice, tomato paste, garlic powder, onion powder, sweet paprika, turmeric and salt and blend until smooth.
In a bowl add lemon juice, water, garlic powder, chili powder and paprika, and mix well.
Cut tortillas into nacho chip triangles.
Cover an oven-safe plate or tray with parchment paper.
Take each nacho chip and submerge it in the liquid mixture and then take it out immediately and place it onto the plate/tray.
Do this for all the nachos or just some them. You can leave some plain.
Preheat oven to 350 F.
After you lay out all the nachos on plate/ tray make sure they're no overlapping.
Place tray into oven for 5-15 or until nachos are crispy.
You can use the microwave for this step too, but of course it doesn't take as long for the nachos to become crispy in the microwave so keep an eye on them. You can microwave them for two minutes then flip them over and do 2 more minutes. It depends on your microwave.
Take them out and air them out.
Assemble your nachos on a plate, then garnish them with your tomato, bell pepper, olives, corn and beans.
Drizzle your queso over them.
Serve.
Wet nachos will need more time to crisp up than dry ones so be careful. You can also add parsley and/or lettuce to your garnish.