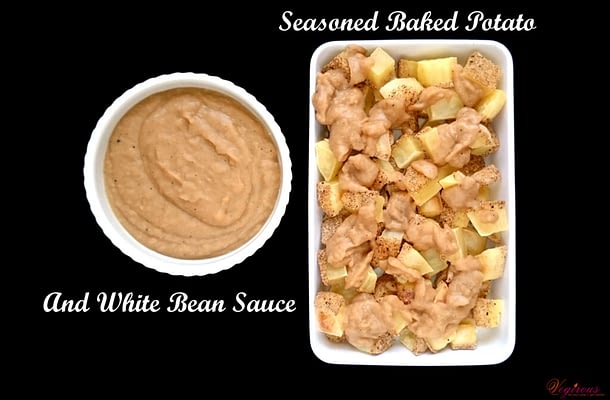 Seasoned Baked Potato and White Bean Sauce is one of those recipes that are great as a main dish and a side dish. The simplicity of this recipe is what makes it a great option for various occasions. You can serve this to your guests as an appetizer, or you can have it as a snack while watching a movie.
Of course, cutting potato pieces that are somewhat the same size would make them cook evenly, but if you're in a hurry that's not really necessary. Cutting them into different sizes isn't so bad really. Some pieces will just be mushier that others for sure.
What's also awesome about this Seasoned Baked Potato and White Bean Sauce Recipe is that you can eat the potato pieces and the sauce separately. The potato pieces resemble popcorn in their size, so it's very practical to eat them on their own. I love having the white bean sauce as a spread on bread. Oh, and did I mention that you can drizzle it over seitan as gravy? It's just versatile and yummy.
So here it is, my Seasoned Baked Potato and White Bean Sauce Recipe.
Enjoy!
Seasoned Baked Potato and White Bean Sauce Recipe
Potato Pieces
3 tablespoons whole wheat flour
1 tablespoon garlic powder
1 tablespoon dry thyme
1/2 teaspoon dry basil
1 pinch salt
2 large potatoes
Sauce
1 can of white beans (navy beans or butter beans)
1 cup water
1 tablespoon low sodium soy sauce
1 teaspoon hoisin sauce
1 teaspoon ground black pepper
1 tablespoon corn starch
In a small bowl add flour, garlic powder, thyme, basil and salt and mix them well.

Line a baking tray with parchment paper.

Preheat your oven to 400 F.

Wash and peel potatoes.

Chop them into rough cubes or chunks.

Take each potato piece and dip one of its sides into the flour mixture and assemble them onto the baking tray. You can put them face down so you get the puffy effect from being baked in the oven on other sides of the potato pieces.

Put them onto the middle tray of the oven and turn down the heat. Leave them to bake for 20 minutes or until done.

Meanwhile, process your beans, water, soy sauce, hoisin sauce, black pepper and process until a liquid consistency is reached.

Pour the mixture into a pan and bring it to the boil.

Turn down the heat and keep stirring for 3-5 minutes.

Take 3-4 tablespoons of the mixture and pour them into a cup and, add corn starch. Mix thoroughly until they're fully incorporated with each other.

Pour this starch mixture into the pan while stirring.

Then keep stirring until the sauce thickens. You can definitely add some more starch if you want a thicker sauce.

Serve Potatoes and drizzle sauce over them.